PACKET PICKUP FESTIVITIES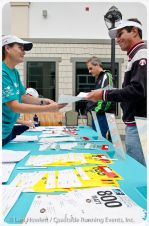 In order to improve the "Green" attributes of our race, we are doing something new and game-changing: distributed packet pickup at different locations closer to our athletes! In addition to offering a variety of locations, there will be a variety of events including fun training runs, discounts at our Packet Pickup Partners for all the gear and supplies you need, book signings and more! 
-- PPU Weekend #1 - Sports Basement, Sunnyvale (details below)
-- PPU Weekend #2 - Sports Basement, Presidio & Walnut Creek (details below)
-- PPU Weekend #3 - EQ Fitness Half Moon Bay (details below)
All sessions and fun runs are OPEN to the Public, whether registered or not!
There will be limited race-day packet pickup at the start/finish line, beginning at 6:00 a.m. Sunday morning, September 29th. Limited means we can only handle a small number with only 1 hour before the race, so **please** do your best to pickup your packet BEFORE race day to avoid any last minute anxiety, and to take advantage of the amazing program of speakers, fun run and more!  
 
Can a friend/relative pick up my packet? 
You should make every possible effort to pick up your bib and information. Not only will you ensure you get everything you need for your race day, but you'll get to enjoy the festivities as well! 
If you are unable to appear in person you may download this form AND BRING A PHOTOCOPY OF THE ATHLETE'S ID, follow the instructions on the form, and send it with the person authorized along with a photocopy of your valid photo id to pick up your information. There will be no exceptions to this policy, so please observe the instructions to avoid any inconvenience. 
---
Sports Basement is the Official Packet Pickup Partner
for the 2013 HMBIM!


All

athletes receive a 10% discount at Sports Basement through September! Just mention the HMBIM at checkout!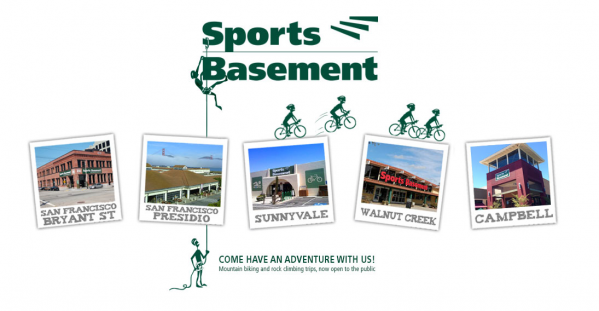 ---

---



Packet Pickup Weekend #3 - RACE Weekend Schedule!! 

Location: The Start/Finish Line of the 2013 HMBIM- EQ Fitness HMB (formerly known as Coastal Lifestyles), 371 Princeton Avenue, Half Moon Bay
Dates/Times:

Friday, September 27, 1:00 p.m. - 7:00 p.m. 
Saturday, September 28, 10:00 a.m.- 4:00 p.m.
Event Schedule 

Amazing sessions for athletes and

open to the public

! Come spend time with and learn from our 2013 HMBIM Special Guest Athlete Bart Yasso. 

12:00 p.m.-12:30 p.m. - Runner's World's Chief Running Officer, Bart Yasso (and author of the famous Yasso 800s training workout) will speak about his passion of running and how to achieve your goals.. 
12:30 p.m.-1:30 p.m., Bart will be available for photos and book signings. 
1:30 p.m. - 2:00 p.m. - Eric Vaughan, Executive Director of the HMBIM will discuss the course, signage, aid stations and other last minute tips. 
2:00 p.m. - 4 mile fun run (run as much as you want) on the HMBIM Course with Bart Yasso, starting from the HMBIM Start/Finish Line.
| | | |
| --- | --- | --- |
| |                                 |   |