Transportation
Half Moon Bay is located just a 20 minute drive away from San Francisco International Airport (SFO), or a 1 hour drive from either Oakland International Airport (OAK) or Mineta San Jose International Airport (SJC). Half Moon Bay is located on scenic Highway 1 and is a wonderful destination point for a scenic drive to your race. Shuttle service is provided by
 
Lodging
LODGING 
The enchanting "Coastside" community of Half Moon Bay has many wonderful lodging options and experiences, from the 5-Star World-Class Resort of the Ritz-Carlton Half Moon Bay, to traditional full-service hotels, to Inns by the Sea, Bed and Breakfast accommodations---even a fantastic Hostel located at Point Montara Lighthouse--the Northern turnaround point for the Full Marathon athletes! 
And, if camping at a gorgeous State Park which sits right on the Pacific Coastline is your choice, the Half Moon Bay State Park is actually right on the course! See the information below for online reservations.
A full listing of accommodations can be found at the Visit Half Moon Bay Web site.  
---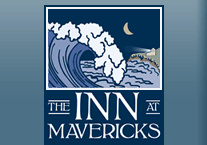 Oceanfront Inn at Half Moon Bay
The Inn at Mavericks is a unique sensory experience that blends sumptuous accommodations with an oceanfront setting. 
    
       …Unique – because we are the only ocean front Inn at Half Moon Bay…
Located in the quaint village of Princeton-by-the-Sea and just a few short minutes north of historic Half Moon Bay; the Inn at Mavericks sits on a small waterfront bluff overlooking picturesque Pillar Point Harbor and the Pacific Ocean.  Here you will find activities such as beachcombing, tidepooling, hiking, kayaking, surfing, shopping, and oceanfront dining all within easy walking distance…Or, just relax on the veranda of your elegant waterfront guestroom, reading a book and listening to the ocean waters lapping against the soft sand and rocks.
The Inn at Mavericks
346 Princeton Ave
Half Moon Bay, CA 94019
+1.650.728.8271
allen@InnatMavericks.com 
---



Situated 23 miles southwest of the San Francisco International Airport, The Ritz-Carlton, Half Moon Bay provides a magnificent backdrop for the perfect Northern California coast vacation. Whether you are roasting marshmallowsand making s'mores in your own terrace fire pit or relaxing on the bluff after a rejuvenating spa treatment, our Resort offers a stunning destination for your next getaway.  Enjoy innovative cuisine in our ocean-view restaurants, two championship golf courses and miles of walking trails at the most romantic setting in Northern California. The Ritz-Cartlon Half Moon Bay is also the turnaround point for the Marathon course!
With a world-class spa, unmatched ocean bluff views and 5-star luxury, why not combine your running excursion with a getaway to relax before the race, and then unwind and recharge afterwards? It's an experience you'll never forget!
Ritz Carlton Half Moon Bay
One Miramontes Point Road
Half Moon Bay, CA 94019
+1.650.712.7000
hafrz.leads@ritzcarlton.com
---
The Best Western Half Moon Bay Lodge is located in one of the Northern California's most charming seaside villages with white-sand beaches, fishing, diving, surfing, oceanfront golfing, whale watching and kayaking. At Pillar Point Harbor, watch the fishermen unload their day's catch of squid, crabs, salmon, rockfish, tuna, and halibut and learn about how they bait their traps and mend their gear. Great ways to splurge include taking kayaking class or heading out on a whale watching adventure. Bring binoculars to the Pillar Point Marsh and Shoreline in Princeton-by-the-Sea for some of the best seabird watching on the coast.
Half Moon Bay Lodge
2400 S. Cabrillo Highway
Half Moon Bay, CA 94019
+1.650.726.9000
reservations325@halfmoonbaylodge.com 
---
The Beach House Half Moon Bay is a luxurious boutique hotel with spectacular views of the Pacific Ocean and Pillar Point Harbor.  The hotel is also less than 1/2 mile from the start/finish line of the HMBIM. 
Beach House Hotel Half Moon Bay
4100 North Cabrillo Hwy (Highway 1)
Half Moon Bay, CA 94019
+1.650.712.0220
res@beach-house.com
---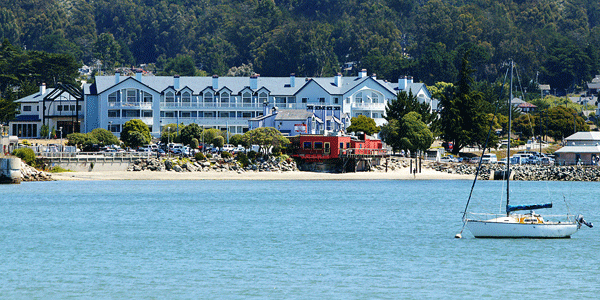 Located less than 1/4 mile from the 2013 HMBIM start/finish line, the Oceano Hotel and Spa, Half Moon Bay's premier luxury hotel, is a place to bask in the exquisite beauty of the Northern California Coast. Situated right beside Pillar Point Harbor, Oceano features magnificent views of the coast, incredible harbor sunsets, and lavish accommodations. Our interior features a refined décor that merges seamlessly with our seaport style architecture and the natural surroundings.
Camping/Hostel
Other Accommodation Options - Hostel and Camping
Enjoy a unique vacation experience at a spectacular lighthouse location, perched on a bluff overlooking the Pacific Ocean, just 25 miles south of San Francisco. The rugged California coast is a dramatic and breathtaking setting, and the Point Montara Lighthouse Hostel offers a relaxing retreat for travelers of any age.

Point Montara Lighthouse Hostel
16th Street and Highway 1
Montara, CA 94037
+1.650.728.7177
info@montarahostel.org 
---
Located right on the HMBIM course, HMB State Park boasts four miles of broad, sandy beaches stretch out to welcome visitors to Half Moon Bay. This picturesque setting is ideal for sunbathing, fishing and picnicking. A campground provides accommodations for those who wish to visit longer. The HMB State Park even features Wi-Fi access! 


Half Moon Bay State Beach
95 Kelly Avenue
Half Moon Bay, CA  94019
+1.650.726.8819
Destination California
MAKE IT A DESTINATION RACE TO REMEMBER
Half Moon Bay is a gorgeous place to visit, with a charming and eclectic downtown area, a full-functioning brewery, a fishing harbor, art galleries, natural tide pools and many other activities. After spending some time on the Coastside, you are only 25 minutes away from the world-class destination of San Francisco and less than 2 hours from the world-famous wine-country of Napa and Sonoma Valley.
Why not combine the marathon of a lifetime with a trip of a lifetime? Visit the Visitor's bureaus to plan your destination race and extended Bay Area vacation!